IBPS Clerk Recruitment 2018 – Apply online @ www.ibps.in : Institute of Banking and Personnel Selection (IBPS) has released notification for the recruitment of candidates as grade VIII clerk. There are about 7275 vacant positions for which the notification is released. Candidates should visit the official website for more updates regarding the IBPS recruitment process.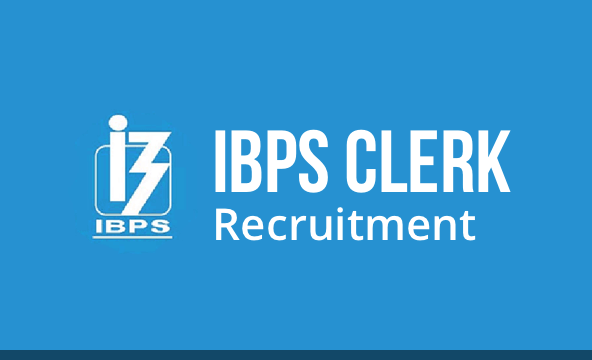 Candidates should check the official notification and find the eligibility criteria like educational qualification, age limit, application fee, selection process, important dates etc. If candidates meet the eligibility criteria they can proceed further to apply online.
Keep all the required documents ready to upload wherever necessary. The examination will be conducted in two parts. Only qualified candidates in the preliminary examination are allowed to attend the mains examination. Later candidates are called for the personal interview.
Name of the Organization: Institute of Banking and Personnel Selection
Name of the Post: Clerk
Number of posts: 7275
Category: Admit Card
Official Website: www. ibps.in
Eligibility Criteria:
Educational Qualification:
Candidates should have to possess graduation from a recognized university or organization by Government of India. Candidates must possess certificate regarding the qualified examination.
Age Limit:
Candidates who are applying for IBPS recruitment should have a minimum of 20 years and a maximum of 28 years. Other age relaxation details can be seen in the official notification.
Application Fee:
Candidates who belong to the general category should have to pay Rs. 600 and other reservation candidates like SC/ST/PWD/EXSM should have to pay Rs. 100/-.
Selection Process:
Candidates should first attend the computer-based objective type for both preliminary and mains examinations. All the qualified candidates will be called for the personal interview.
Important things to check:
Candidates attending the IBPS Mains examination should check a few things during their preparation and also while attending the examination they are. Name and address on the admit card. Roll Number, Password, Registration number, Date of the exam, photograph, signature, exam center, venue code etc.
How to apply for IBPS Clerk recruitment 2018:
Candidates should first visit the official website
Click on the home page and search for "CWE Clerks" link
You will be redirected to read the full notification
Proceed to fill the application form by clicking "Click Here To Apply Online for Common Recruitment Process for Clerical Cadre Phase VIII (CRP Clerks-VIII)" link
Click on the "New Registration" tab
Fill all the required details in the application form.
Upload all the required documents
Upload photograph and signature of the candidates
Proceed to pay the application through all the sources available
Click on submit button
Download a copy of the application form for further reference
Institute of Banking and Personnel Selection  Preliminary Exam Pattern:
Name of Tests(Objective
No. of Questions
Maximum Marks
Duration
 
1
English Language
30
30
20 minutes
2
Numerical Ability
35
35
20 minutes
3
Reasoning Ability
35
35
20 minutes
Total
100
100
Composite times of 1 Hour
IBPS Mains Exam Pattern:
| | | | | |
| --- | --- | --- | --- | --- |
| S.No. | Name of Tests(Objective | No. of Questions | Maximum Marks | Duration |
| 1 | General/Financial Awareness | 50 | 50 | 35 minutes |
| 2 | General English | 40 | 40 | 35 minutes |
| 3 | Reasoning and Computer Aptitude | 50 | 60 | 45 minutes |
| 4 | Quantitative Aptitude | 50 | 50 | 45 minutes |
| |                        Total | 190 | 200 | 160 minutes |
Candidates are advised to keep all the documents ready before filling the application form. This can avoid errors in filling the application form. Once wrongly filled the application form it will be rejected.
Candidates applying for the IBPS Clerks Recruitment 2018 can bookmark this page for future updates regarding the recruitment. Also they can visit the official website by clicking the link given in our page.
IBPS Clerk Previous Year Papers
IBPS Clerk Preparation – Study Plan  
—————————————————————————————————————————————–
IBPS Clerk Recruitment 2018 | 7883 Vacancies for IBPS Clerk|Last Date: 3rd October 2017
IBPS Clerk is a job at entry level in various public sector banks that are operational in India. IBPS Clerk Exam is conducted once in a year for hiring many candidates for the reputed profile of clerical cadre. Each year, IBPS takes the accountability of conducting exams for Specialist Officer, Clerk, PO, and RRBs.
IBPS Clerk is conducted with basic two examinations which are in written format. These examinations are denoted as Common Written Exams (CWE) which has IBPS Clerk Prelims and IBPS Clerk Mains examination. IBPS has published the official notification of employment in this regard on the official website.
Interested candidates can visit the website and download the application form and make the submission before or on the last date. Candidates who can qualify the preliminary written round will be shortlisted to attend the main exams. By the vacancies for the fiscal year 2018-19, the participating organizations of IBPS Clerk Recruitment 2018 will conduct the last round of interview for selecting the final candidates for the IBPS Clerk Recruitment 2018.
No. of posts-7883
Posts – IBPS Clerk Recruitment 2018
Last Date- 3rd October 2017
IBPS Clerk Recruitment 2018: Qualification required:
The eligibility criteria for IBPS Clerk Recruitment 2018 are divided into three sections that are mandatory to be followed. All the candidates need to assess their eligibility before making an application for vacancies for IBPS Clerk Recruitment 2018.
Age Limit: Candidates applying for IBPS Clerk Recruitment 2018 should be under 20-28 years. Candidates need to check for age relaxation criteria.
Nationality: The candidate must have one of the below citizenships.
Citizen of India.
Citizen of Bhutan.
Citizen of Nepal.
Tibetan Refugee.
Migrated people from Burma, Pakistan, Sri Lanka, East African countries of Uganda, Kenya, the United Republic of Tanzania, Malawi, Zambia, Ethiopia, Zaire, Vietnam who have the pure intention of settling in India permanently.
Educational Qualification: Candidates need to have Graduation Degree from any University that is recognized by the Central Government or State Government.
Computer Knowledge: Candidates need to have computer knowledge regarding basic computer operational knowledge and must have Diploma / Degree / Certificate in computer Language/ should have studied Information Technology / Computer as one of the main subjects in Institute / High School / College.
Language proficiency: Candidate needs to have proficiency in the mother or official language of the State or Union Territory. He or she need s to know how to read or write as well as speak the official language of the state in which he or she prefers to apply for the post of IBPS Clerk Recruitment 2018  in a proper way.
Application Fee – Rs 600/- only.
The fee for IBPS Clerk Recruitment 2018 is exempted for the candidates belonging to the scheduled tribe, scheduled caste, and ex-servicemen who are eligible for gaining reservation.
Job Location: All over India.
IBPS Clerk Recruitment 2018 procedure for application
Click on the website of IBPS and click on IBPS Clerk Recruitment 2018 to open the application form and fill all the details required. Upload the photo and scanned signature.
Prerequisites for online application form of IBPS Clerk Recruitment 2018
Scanned passport size photograph and full signature which must be of the required size and format.
Submit fees for IBPS Clerk Recruitment 2018
Email id and contact number that is valid and operational for future communication by IBPS Clerk Recruitment 2018.
Please note that the mentioned particulars in the application form should be filled by the candidate very carefully as once submitted, the details cannot be further modified.
---
IBPS Clerk Recruitment 2017 Notification Apply Online @ www.ibps.in
Are you looking for clerk jobs in govt? Banks? Then there are some uplifting news – the IBPS Clerk 2017 Exam notification has been released. It is a one the most expected declaration, and through this, IBPS is to lead to take the 7th common written examination (CWE – VI) for the job of clerk in Indian banks for the year 2018-19.
IBPS (Institute of Banking Personnel Selection) will take a common written exam or CWE consistently for the clerical grade in various banks throughout the nation. All public sector banks utilize CWE as a base to fill the opportunities for this post.
IBPS is directing Clerk exam for the seventh year now and subsequently named IBPS Clerk CWE VII. The IBPS Clerk CWE exam is taken on two levels-preparatory exam and mains. Students qualifying in both these exams are selected for the post.
IBPS Clerk 2017 Notification
IBPS has discharged the IBPS Clerk 2017-18 notification for the recruitment of Clerks. IBPS Clerk 2017 will be an opportunity for the individuals who have not been able to get past SBI and other Bank Recruitment Exams. The Online Registration for IBPS Clerk 2017 will begin probably from 12th September 2017. IBPS has presented 7883 opportunities for IBPS Clerk 2017 Exam.
IBPS Clerk 2017 Recruitment
The recruitment procedure of IBPS Clerk CWE happens in two stages:
Preliminary Examination Test
Main Examination Test
Aspirants are required to qualify both these exams to get chosen for the post of the clerical grade in the most of the Public Sector Banks. The primary concern to note here is that there is no interview procedure required for the choice of the applicant after the mains exam. 100% weight age is given to the result of mains exam result.
IBPS Clerk 2017 Recruitment Notification Important Dates
Online Application ends on :
Sr. No.
Schedule
Dates
1
 Online Application starts on
12th Sep 2017
2
3rd Oct 2017
2
 Online Preliminary Exam Dates
2nd, 3rd, 9th & 10th
December 2017
4
Online Main Examination Date
21st Jan 2018
5
IBPS Clerk Final Result Declaration
1st April 2018
The IBPS Clerk exam occurs in two phases: Prelims and Mains. Both these papers go for an online strategy for conducting the written examination. The structure of the exam is:
Stage 1: IBPS Clerk Preliminary Examination Test
The preliminary exam for the IBPS Clerk CWE is an online exam testing an applicant on the premise of their aptitude, brains, and English. There are three segments altogether, and the contender should clear the cut up of each segment to continue to the mains exam round. Aspirants are required to solve the question paper in the time span of 60 minutes. The composite mark of the paper is 100, and the passing marks are decided by IBPS that is probably going to change each year contingent upon the level of difficulty of the exam.
S.No.
Name of Objective
No. of Questions
Maximum Marks
Duration
1
English Language
30
30
Total time of 1 Hour or 60mins
2
Numerical Ability
35
35
3
Reasoning Ability
35
35
Total
100
100
Stage 2: IBPS Clerk Mains Examination
Real changes have been seen in the Exam Pattern of IBPS Clerk 2017 Exam. The aggregate duration and the number of questions asked in Mains Examination from IBPS Clerk 2017 Exam have been updated. In the most recent update by IBPS, IBPS Clerk Mains Exam will now constitute of 190 inquiries that should be finished in a time span of 160 minutes.
Earlier, Computer Aptitude and Reasoning Ability Section used to be led independently. But, in the current update by IBPS, both these segments are amalgamated together and will constitute of 50 questions that should be solved in 45 minutes. Both Preliminary Exam and Mains Exam will be led bilingually, i.e., both in English and in Hindi. Look out at the Exam Pattern for IBPS Clerk CWE VII.
S.No.
Name of Tests
No. of Questions
Maximum Marks
Duration
1
Reasoning Ability & Computer Aptitude
50
60
45 minutes
2
English Language
40
40
35 minutes
3
Quantitative Aptitude
50
50
45 minutes
4
General/ Financial Awareness
50
50
35 minutes
Total
190
200
160 minutes
The penalty for Wrong Answers:
There is a deduction for wrong answers marked in both preliminary examination and additionally mains examination. A wrong response to an objective question will prompt a deduction of one-fourth of the mark assigned to that inquiry. There will be no deduction for the inquiry left blank or not answered.
Score Calculation for IBPS Clerk Exam:
The score for the IBPS Clerk exam is ascertained remembering the following points in mind-:
Marks acquired in the Preliminary Exam (Phase-1) won't be considered for selection.
Candidates must qualify Phase-2 to be qualified for final merit.
The total score out of 100 is utilized for the final merit list for each category. Candidates with top rank in every category are finally chosen.
The major three sections of the preliminary examination are Reasoning, English Language, and Numerical Ability. Each of these areas has various subheadings to focus on while getting ready for IBPS Clerk CWE. The syllabus for Numerical Ability, Reasoning,  and English Language is same for mains and preliminary exam. Notwithstanding these two other subjects are General Awareness and Computer Knowledge.
IBPS Clerk 2017 Eligibility Criteria
The applicant must satisfy the following two criteria to be eligible for the IBPS Clerk Exam 2017:
Age Limit: The applicant age must be between 20 Years to 28 Years.
Educational Qualification: An applicant must possess the minimum qualification of Graduation in any discipline from a perceived University or any equal qualification perceived as such by the Central Government. The applicant ought to have gone in English as one of the subjects at SSC/HSC/Intermediate/Graduation level. Contender ought to have a certificate in verification of passing the qualifying examination.
IBPS Clerk 2017 Online Application
The application for IBPS Clerk Exam 2017 must be made online. To avoid any specialized errors, please ensure that the web-browser needed to fill up the IBPS Clerk 2017 Application form needs  one of the following web browsers:
Internet Explorer 8 or more
Mozilla FireFox 3.0 or more
Google Chrome 3.0 or more
Candidates applying online must have the following things ready :
A legitimate Email Id
Photograph and Signature scanned in the endorsed size.
Application fee must be given online, so all documents required for online exchange
IBPS Clerk Application Fee
The category wise application fee structure for IBPS Clerk online application is given underneath. Fee/Intimation charges once paid won't be refunded on any record nor would it be able to be held available for any other examination. The application fee must be paid online itself. To know more check the entire guide for IBPS Clerk Application
| | | |
| --- | --- | --- |
| Sr. No. | Category | Application Fee |
| 1 | SC/ST/PWD | Rs.100/- (Intimation Charges only) |
| 2 | General and Others | Rs. 600/- (App. Fee including intimation charges) |
IBPS Clerk 2017 Admit Card and Call Letter
Applicants must download the IBPS Clerk 2017 admit card from the official site as the Admit Card won't be sent to the applicants through the post. To log in to the official site, the applicant will require the following two things :
Registration No/Roll No
Date of Birth/Password
The admit card will be made accessible 10 to 15 days before the IBPS Clerk 2017 Exam. The admit card or call letter for IBPS Clerk 2017 will be issued in 3 stages:
Online Preliminary Examination
Online Mains Examination
The link to download the admit card will be given on this page later. Applicants are advised to check the details on the admit card before downloading.
IBPS Clerk 2017 Results
IBPS will announce the results after the completion of each period of examination. The last state-wise merit list and category wise merit list should be set up in descending order of the marks secured by competitors in their online mains examination. Applicants who fall on the recommended merit list will then be considered for an appointment to the post of the clerk in various Banks.
The study of IBPS Clerk CWE exam must be made reasonably keeping in mind the most recent pattern and the syllabus of the exam. Since the syllabus covers a large number of topics, it is vital for the contender to pick the correct set of books to get ready for their examination.